The term came from the French finissage (нем. finieren). Polishing and ennobling operations perform not only an aesthetic, design or artistic task, but also carry a technical function, like reducing friction, detaining dust and others.
---
Trovalisieren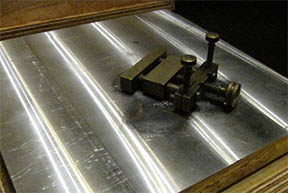 Polishing on the tin (polishing in black), (black polish)
Polishing on tin is a way to achieve a very shiny and even surface. Only on steel it is possible to achieve this mirror effect.
Blueing
Blueing of a bolts
Gilding with electroplating
Gilding protects the surface of parts from corrosion and oxidation.