Clock inspection and the definition of a repair strategy
I received the clock in disassembled form.
In the mechanism, basically, everything is genuine, only in a few places one of the watchmakers left its mark after repair. The gilding has survived well, there is some surface rust. The details of the clock are executed quite qualitatively. Restore this artifact makes sense, because the clock still has a historical value.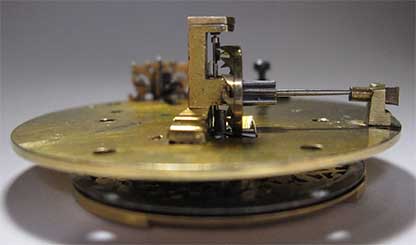 The following repairs are required:
the balance axis is damaged: the lower pivot is broken off, the pallets on a axle have wear marks after long use
the hook is broken on the fusee chain
a pivot is broken on the additional pinion
For the repair of such watches you need a professionally thought-out concept and time.